1. Main page | 2. Top 20 | 3. Big Numbers | 4. Custom Stats



Big Numbers
astropoint liked showing off, giving 13 self-descriptions.


Sample:
astropoint didn't have anyone to talk to and performed 91 monologues (writing over 5 lines in a row).

Runner-up auto-chatter: yoinkster - was caught talking to himself 6 times.

astropoint had a sticky shift button - he wrote 6 lines in CAPS.


Sample:
26.9.2020 16:07 <astro>

"HELLO HEADQUARTERS!!!"



SpookyKid was overly verbose, averaging 200 letters per line.


Friends in hub.twofo.co.uk_4144
(they really like talking to each other...)
Hours 0-6
Hours 6-12
1
astropoint
yoinkster
1
astropoint
yoinkster



Hours 12-18
Hours 18-24
1
SpookyKid
astropoint
1
astropoint
yoinkster
2
yoinkster
astropoint
2
astropoint
SpookyKid
3
astropoint
TMA
4
SpookyKid
yoinkster
5
SpookyKid
ZeeClone

hub.twofo.co.uk_4144 relation map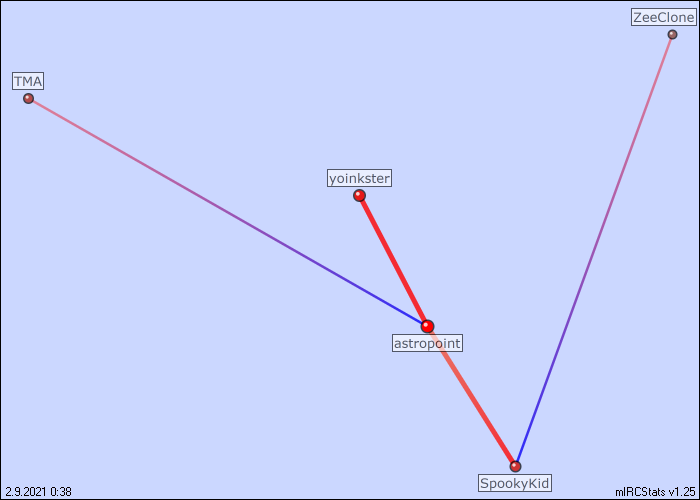 • Line thickness corresponds to the relation strength
• Line colors show the relation importance for each nick
| | | | | | | |
| --- | --- | --- | --- | --- | --- | --- |
| More important | | | | | | Less important |

Activity distribution
9/2020 - 4/2021
| | |
| --- | --- |
| Lines per day | Number of days |
| | 1 (0.4%) |
| | 2 (0.9%) |
| | 4 (1.7%) |
| | 4 (1.7%) |
| | 11 (4.8%) |
| | 32 (14%) |
| | 176 (76%) |
| | 1 (0.4%) |
2021
1 / 2021
1
2
3
4
5
6
7
8
9
10
11
12
13
14
15
16
17
18
19
20
21
22
23
24
25
26
27
28
29
30
31
Lines: 694

2 / 2021
1
2
3
4
5
6
7
8
9
10
11
12
13
14
15
16
17
18
19
20
21
22
23
24
25
26
27
28
Lines: 392

3 / 2021
1
2
3
4
5
6
7
8
9
10
11
12
13
14
15
16
17
18
19
20
21
22
23
24
25
26
27
28
29
30
31
Lines: 550

4 / 2021
1
2
3
4
5
6
7
8
9
10
11
12
13
14
15
16
17
18
19
Lines: 291
2020
9 / 2020
1
2
3
4
5
6
7
8
9
10
11
12
13
14
15
16
17
18
19
20
21
22
23
24
25
26
27
28
29
30
Lines: 772

10 / 2020
1
2
3
4
5
6
7
8
9
10
11
12
13
14
15
16
17
18
19
20
21
22
23
24
25
26
27
28
29
30
31
Lines: 246

11 / 2020
1
2
3
4
5
6
7
8
9
10
11
12
13
14
15
16
17
18
19
20
21
22
23
24
25
26
27
28
29
30
Lines: 265

12 / 2020
1
2
3
4
5
6
7
8
9
10
11
12
13
14
15
16
17
18
19
20
21
22
23
24
25
26
27
28
29
30
31
Lines: 307

The most active courses
| | | | |
| --- | --- | --- | --- |
| | Course | Number of Lines | Members |
| 1 | Information Technology | 2372 | astropoint |
| 2 | Mathematics | 551 | yoinkster |
| 3 | Biology | 521 | SpookyKid |
| 4 | Chemistry | 57 | TMA |
| 5 | Electronics | 16 | ZeeClone |

Active day counts
Most days active
| | | | |
| --- | --- | --- | --- |
| | Nick | Number of days | percentage |
| 1 | astropoint | 230 | |
| 2 | SpookyKid | 101 | |
| 3 | yoinkster | 72 | |
| 4 | ZeeClone | 5 | |
Most consecutive days active
Nick
Number of days
At
Currently
1
astropoint
230
1.9.2020 - 18.4.2021

| | |
| --- | --- |
| | Currently 230 days active * |

2
SpookyKid
17
6.9. - 22.9.2020

| | |
| --- | --- |
| | Last active 5 days ago (14.4.2021) |

3
yoinkster
15
26.12.2020 - 9.1.2021

| | |
| --- | --- |
| | Currently 4 days active * |

Average line lengths
| | | |
| --- | --- | --- |
| Line length | Count | Nicks |
| 200.. | 1 | SpookyKid(200) |
| 180..199 | 0 | - |
| 160..179 | 0 | - |
| 140..159 | 0 | - |
| 120..139 | 0 | - |
| 100..119 | 0 | - |
| ..99 | 2 | yoinkster(81.6), astropoint(64.6) |
Not displaying nicks with less than 100 lines

URL Tracking
90 unique URLs collected between 1.9.2020 and 19.4.2021

Most used words
| | | | |
| --- | --- | --- | --- |
| Count | Word | Last used by | At |
| 114 | "really" | yoinkster | Yesterday 19:26 |
| 103 | "people" | astropoint | 16.4. 0:13 |
| 100 | "something" | yoinkster | Yesterday 19:23 |
| 94 | "actually" | astropoint | 17.4. 1:55 |
| 91 | "through" | yoinkster | 17.4. 1:37 |
| 91 | "though" | yoinkster | 17.4. 1:37 |
| 86 | "probably" | astropoint | 17.4. 1:59 |
| 78 | "should" | astropoint | 17.4. 1:25 |
| 75 | "anything" | astropoint | 17.4. 2:11 |
| 74 | "because" | astropoint | 17.4. 1:56 |



1. Main page | 2. Top 20 | 3. Big Numbers | 4. Custom Stats